These are our projects:
Currently, only the first of our projects is in operating phase.
Dental Chart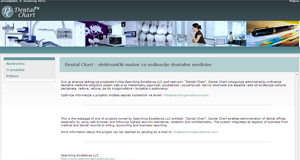 Dental Chart is our project which aim is to facilitate processing of data created by dental office. It includes few integrated elements: electronic health record, billing, accounting and business reporting. The main idea is to decrease all costs and to bring all processes to the highest level. Project is based on advanced up-to-date technology and secured to prevent any unauthorized data breach.
Dental Chart is exclusively online system hosted in our servers. You do not need to maintain databases, backups or anything else. Online approach is a good way to have all your records secured, but also highly accessible to all users that have specific access rights.
Epidemiology Science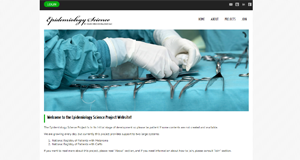 Epidemiology Science is our very important project of supporting medical, dental and public health science with establishing databases, entry forms, development of all advanced requirements (advanced forms with images, medical statuses, dental statuses and many other development tasks. We will be partners with you in determining all needed for better, quicker and more precise data acquisition, different user levels and different locations. We will prepare all data and make it available only for your internal purposes, but if you wish we can make them searchable and available online in our website.
Epidemiology Science project is based on enthusiasm of lead developer who has great experience working with all medical data, scientific data. Our team will do everything possible to enable you to become recognized. Currently we will start in August 2012. with one large hospital's register in the field of dermatology. One month later (September 2012), we are starting with another even more important national register in the field of maxillofacial surgery.
If you want to contact us and to see if we can help your idea or be of help, please contact us on info@searchingexcellence.com.